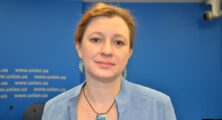 In the annexed Crimea, Ukrainian human rights activists are recording the issues with informing the people about the threat of coronavirus. Thus, according to their observations, it is often impossible to verify the reliability of official information in the occupied territory; local media often cite dubious sources of information and offer the opinions of unqualified experts. Ms. Kateryna Nekrechaya, a Krym.Realii Radio hostess, was discussing the ways to distinguish the facts from the disinformation, with Ms Irina Siedova, an expert of the Crimean Human Rights Group, on the air.
What is going on with informing the Crimeans themselves about the coronavirus, Irina?
Ms.Siedova: Basically, we are observing unprofessionalism of journalists and suppression of problems – perhaps the media people are afraid of writing about it. As a rule, they quote the position of the Russian occupation authorities, and that's all. Just now, for instance, Putin's so-called Night Wolves bikers are going to hold a big festival in Sevastopol, and the media are announcing it as an interesting event without a single hint that the pandemic is still here. As a result, some people get the impression that there is no longer any coronavirus in Crimea, they are not wearing masks in public, and so on. This is very terrifying because we keep on recording the growth of the infected number.  The pandemic is intensifying while the media are just disregarding this.
Some people get the impression that there is no longer any coronavirus in Crimea – Ms.Irina Siedova.
– Who benefits from this situation? After all, this will result in more people getting to the Crimean hospitals.
Ms. Siedova: This is a totalitarian machine, so it is important for it to have everything OK on the information agenda, but it does not care what happens to people in reality. The same was in the Soviet Union, and so it is now in North Korea. Even if people would die in thousands, and the media would report that everything is fine, then this would be enough for the rest, relatively speaking, to earn money for the budget. In such a situation, independent media and organizations need to communicate truthful information to people as much as possible.
It is important for the totalitarian machine to have everything OK on the information agenda – Ms. Irina Siedova.
Could you give our audience any advice on how to verify the information in order not to fall for the fakes?
Ms.Siedova: In fact, the best is not to trust the Russia controlled Crimean media. It is better to look for information in independent sources, in foreign media. If you have found news that grabbed you deeply, if you have begun to experience strong emotions – most likely, this is a fake. Such information must be carefully checked and at least two independent sources must be found that will confirm or deny it. If the media publishes striking news, but does not indicate how it got it, it could be disinformation.