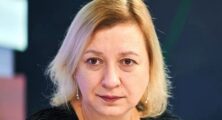 According to the monitoring data of the Crimean Human Rights Group published in July 2020, regional media on the mainland of Ukraine, when preparing publications on Crimean subjects, just sometimes do not comply with the standards of accuracy and balance of opinions – this refers to only 6.5% of the materials studied.
Ms.Irina Siedova, a Crimean Human Rights Group expert, when commenting to Radio Crimea.Realii, said that she considered the fact that some regional sites rarely wrote about Crimea in general, a more serious problem.
– We have studied local media specifically during the year – 48 sites. A lot depends on the editorial policy: if an editor is professional, then out of a thousand news items in a year, only two may have minor violations of standards. Journalists often do not check information and present what they read on social networks as a fait accompli. Very often they use generalizations and exaggerate: three cars got stuck in the snow, and they are writing about some avalanches and hundreds of stuck cars. Some take news from Russian propagandists and quote them directly. There are regional sites that do not write about Crimea at all: for example, in Poltava and Rivne, the sites have published only three news items in a whole year. The editors are not interested in this topic, and I heard from one editor: "We are not controlling the territory – why should we write about it?" This is very sad.
Ms. Siedova is sure that it is regional sites that are responsible for the worldview of a significant part of Ukrainians.
– Many people do not read the national media, they only visit local sites – they are always more trusted, since they write about everyday relevant problems in the region. We would like such media to pay more attention to serious things like occupation and armed conflict. This concerns everyone, the war is going on throughout the country.