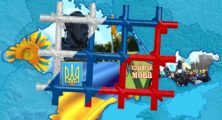 The Crimean Human Rights Group presents to your attention the review 'Human rights and international humanitarian law norms: 'Crimea 2020 situation review'.
The use of violence and degrading treatment during detentions, the use of violence against detainees, detention in conditions threatening life and health, detention in custody of persons with medical contraindications to this, refusal to provide the necessary medical care, were recorded in Crimea in 2020.
According to the CHRG data, at the end of 2020, 109 persons deprived of liberty due to political or religious reasons were kept in the places of unfreedom under 'Crimean' criminal cases. No releases involving Crimean political prisoners occurred after the 'exchange' in September 2019. At least 24 persons were deprived of liberty in 2020.
More information about human rights violations, response of the RF occupation authorities on COVID 19 pandemic, state policy of Ukraine for protecting people in the context of occupation of the AR of Crimea and Sevastopol City and international resolutions on Crimea in 2020 you can find in the Crimea 2020 situation review.