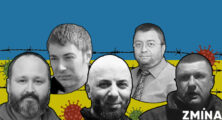 The health of Ukrainian political prisoners held in Crimea and Russia is a matter of particular concern to human rights defenders. These people are the most vulnerable category of Ukrainian nationals, because they are, in fact, under the full control of the occupiers. At the same time from the very beginning the Russian law enforcement bodies have been discriminating them because of their civic position, religion or beliefs.
Not providing health care to prisoners is one of the ways to degrade a human used consistently by the Russian prison staff regarding Ukrainian nationals. And these Ukrainians are also activists or bloggers – these abuses can be additionally hatred 'colored'.
This article presents information about five prisoners imprisoned for religious or political reasons. Each of them is suffering from health issues and lack of medical care timely offered.
Dzhemil' Gafarov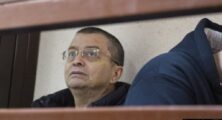 Mr.Dzhemil' Gafarov has been in custody since March 2019. He was detained and charged with "terrorism" for allegedly participating in the 'Hizb ut-Tahrir' party. In fact, the prosecution has got no evidence that the prisoner is a member of this organization. Dzhemil is a Disability Category III, suffering a chronic kidney disease and related heart diseases.
According to lawyer Rifat Yakhin, the man is now in critical condition due to the kidney disease exacerbation.
The lawyer says that a month ago the condition of prisoner's gouty legs exacerbated – this being the complication and consequences of exactly this chronic kidney disease, then a tumor with accompanying pain.
"I think the complication is due to his chronic kidney disease. At the same time, he is not receiving any proper medical care. And above of this, UFSVP[1] medical unit no 91 is still evading the reports on medical data and information about Mr.Gafarov's health and conceals the true picture and information about the results of medical tests, and all medical information from the prisoner himself.
The severe exacerbation of his health was preceded with a refusal of UFSVP medical unit 91 physician to hospitalize and examine Mr.Gafarov he had been asking for all these last months, and the same UFSVP physician rejected Mr.Gafarov to provide the information about his examination results', the prisoner's lawyer explained.
Valentyn Vyhivs'ky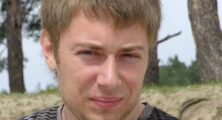 Mr.Valentyn Vyhivs'ky was imprisoned more than six years ago. A false accusation of espionage – a "court" sentence of 11 years in prison. Now the Ukrainian is in colony № 5 of the Russian city of Kirovo-Chepetsk. Prisoner's father Mr.Petro Vyhivs'ky is very concerned about his son's health.
It is suspected that Valentin has recently contracted COVID-19, because there was an outbreak of the epidemic in the colony and Valentin had all the symptoms of this disease. Valentyn has a chronic spine disorder and joint issues while his teeth have begun to crumble, most likely due to poor nutrition and lack of vitamins.
"He was not offered any medical care, even after long requests for it. Testing for COVID-19 was not done either, and Valentyn had been never subject to medical examination," his father says.
Mr.Petro Vyhivs'ky says that he is mostly concerned now about his son's psychological condition.
"He has been kept in the ward-type room (PKT) for almost four years. Due to this he has no right to be visited by the relatives and to have long conversations with them. Although he never complains about his health, we are very worried about his psychological state. Indeed, there were hopes for release at first, but now there are no changes, and the years of absolute isolation are destructing him,' father Petro Vyhivs'ky shares his fears.
He says that Valentin is being held in the PKT because of his pro-Ukrainian position, that the man does not conceal.
"Earlier, my son had been agitated to start working for Russia, but he refused. He behaves independently, supports and does not conceal his pro-Ukrainian position. That's probably why he's been kept in solitary confinement for so long," his father thinks.
Ivan Yatskin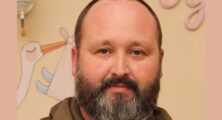 Ivan Yatskin, a Ukrainian, is another prisoner whose health issues Russia does not want to address. He was arrested on October 16, 2019. He is also accused of espionage in a clearly falsified case. Now he is being held in the Lefortovo pre-trial detention center.
Mr.Yatskin has chronic diseases of the cardiovascular system, that require a comprehensive examination outside the pre-trial detention center in the profile clinic.
His lawyer, Mr.Mykola Polozov, says that some of his client's health issues have not been addressed for months:
"He is suffering chest pains. He was not properly examined for four months after the injury. An X-ray of the sternum was lost. Mr.Yatskin may have a cracked rib or a pinched nerve, in any case, a specialist should see an X-ray.
The only good that we can note is that we have finally managed to get an examination by an ophthalmologist. It took four months. But the prescription for glasses was written out and the glasses have already been delivered to Mr.Yatskin'.
Nariman Mexhmedinov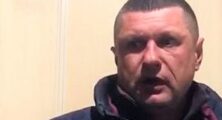 Last February the occupiers arrested Mr.Nariman Mezhmedinov, a Crimean Tatar. He is charged of being in the N.Chelebidzhikhan Crimean Tatar battalion called 'extremist'. The core 'crime' of this battalion is public appeals to return Crimea under control of Ukraine. However, the case files lack any evidence of this unit harmful actions against the RF.
Now Mr.Mezhmedinov, aged 55, is being held in the pre-trial detention center in Simferopol (SIZO). According to his relatives, he suffers from several chronic diseases and has Disability Category 2. But despite this, the forensic medical examination commission recognized his detention in the pre-trial detention center as admissible. Mr.Mezhmedinov's staying in these inhuman conditions only exacerbates his sufferings.
Nariman's relatives do not like speaking to journalists. But the Crimean Human Rights Group representatives managed to communicate with Nariman's sister a couple of months ago.
She said that the brother had stayed almost all the time of imprisonment in the medical unit of the pre-trial detention center, as he suffered from such diseases as: asthma, pancreatitis, heart weakness. This person needs help. The family does not have enough money to provide him with all necessary medicines. Of 10 droppers he needs he gets half to save costs for medicines.
Teymur Abdullayev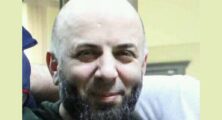 One more painful story is that of political prisoner Teymur Abdullayev. He was arrested by the occupiers in October 2016, and accused of 'terrorism'.
In fact, it is a falsified punishment for allegedly participating in Hizb ut-Tahrir. This organization is not banned in Ukraine, and therefore persecuting Ukrainian citizens for belonging to it on the territory of the Ukrainian Crimea is a crime.
A Russian push-button court sentenced Mr.Abdullayev to sixteen and a half years in prison.
He is currently being held in the Russian colony №2 in Salavat.
His mother, Mrs.Diliara Abdullayeva, talks about her son's health with great pain.
She says that Teymur has an acute cerebral circulation disorder, numbness of the extremities of the arms and legs, severe headaches, noise in the ears and head, numbness of the right side of the face.
"Teymur also has chronic hepatitis C, a sick stomach, he has been allergic since childhood," Diliara says.
The woman tries to draw as much attention as possible to the unfair treatment of her son and get him the help he needs.
Mrs.Diliara Abdullayeva says that the main issues now are the terrible conditions her son is kept in and the lack of access of doctors to him:
"My son is kept in the punishment isolation cell almost constantly. The administration of the colony acts so that the medical staff shall not enter this prison unit and treat the prisoners there. That's why my Teymur had to self-treat himself, taking the medicines that I prescribe and send to him. "
When Mr.Abdullayev contracted COVID-19, he was still kept in the punishment unit, and only thanks to his mother's persistence and publicity in the media he was examined and moved to the so-called quarantine cell.
"He and other prisoners suspected of infection were isolated, but left without any treatment. Nothing was done, waiting to see if they would recover or die,' Diliara says.
She says she prescribed the treatment herself, bought medicines and send them to the colony. Eventually, Teymur managed to cure the coronavirus disease, after which he was immediately placed back to the punishment isolation unit, where new health issues began. The mother handed over the medicines again through the lawyer and hopes that her son will ultimately receive them.
The woman is concerned about her son's general health state because the conditions in the punishment isolation unit are unacceptable.
"Now Teymur is in the punishment isolation unit, in the cell where four persons are kept. The prison staff calls this a cell, though this a WC in fact. Because how a room could be called a cell if there is an open toilet inside. People are practically kept in the WC. In such a room, if there are several people, to eat and to answer a call of nature at one and the same time – this is against all sanitary standards. This is torture, in fact', the prisoner's mother complains.
She emphasizes that these rooms, among other things, are constantly wet and cold, that contributes further to the development of chronic diseases of Teymur.
***
As you can see, all these cases have much in common. It doesn't matter where Ukrainian nationals are detained. The problems are similar. Inhuman treatment, deliberate lack of medical care – all this can be equated to torture.
For almost seven years of war and occupation, the human rights defenders have recorded hundreds of cases of inhuman treatment of Ukrainian prisoners. And the explicit pro-Ukrainian position of these people, their unwillingness to collaborate with prison staff, and their opposition to the system only further irritate the prison administration and intensify manhandling. While impunity for such behavior further unleashes criminals.
That is why we must make every effort to ensure that as many people as possible learn about the suffering of Ukrainian prisoners. We must put pressure on the Russian authorities by all possible means to force them to stop the suffering of these people.
To stop torture. To help. To release.
This should be our number one task now. And not just for civil society. But also for the Ukrainian government, foreign governments and leaders of international organizations. Because there is nothing more valuable than human lives. Lives for which we are all now responsible.
Author: Iryna Sіedova
[1] Federal Penitentiary Service