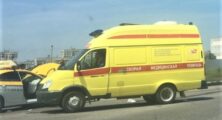 The Crimean Human Rights Group spoke with medical workers in Simferopol, Feodosia, Kerch, Kirovsk and Yalta. 
According to a source of the Crimean Human Rights Group within the Simferopol public health system, the coronavirus sickness statistics is underestimated in Crimea by an average of four times.
The medical worker said that many people with Covid-19 are being diagnosed as having 'community-acquired pneumonia', and the diagnosis of COVID-19 is made only after the Rospotrebnadzor carries out test. "That is, a positive test for Covid, made in private clinics, is not recognised by Rospotrebnadzor," — the medical worker told. The person also spoke of the number of deaths having sharply risen recently.
According to a Simferopol medical worker, there are enough beds in "Covid hospitals" and enough ventilators, but this is only because not everyone is diagnosed with COVID-19. Basically, they diagnose pneumonia, and with such a diagnosis they are not put in a "covid hospital" until Rospotrebnadzor confirms COVID-19 in the patient.
Now, in the Simferopol region, medical workers fix foci of "covid pneumonia" in the settlements of Fontany, Ak-Mechet and Chistenkoye.
The number of ambulances has not decreased, and on average, in the Simferopol region, patients wait for an ambulance for about 2-3 hours from the moment of calling, previously there were delays of up to 7-8 hours.  The medical worker associates such a delay with the fact that in addition to providing assistance to the patient, the paramedic still needs to fill in many paperwork, and this takes considerable time. Ambulances are not fully staffed with medical personnel (there must be a doctor and a paramedic/nurse on board), in around half of the cases, there is only one paramedic with the driver. It also makes the work of medical workers difficult. Previously, there were ambulances being sent to patients with coronavirus, and ambulances – to ordinary patients, now there is no such distinction. At the same time, according to the source, ambulance workers do not receive Covid supplementary payments.
The ambulances have been supplied with the necessary medicines and pulse oximeters.
Our source also said that many medical workers have pneumonia,
"Doctors are given a test once every fortnight, however the material is taken incorrectly and this is done on purpose, since if even one doctor from an ambulance team gets a positive result for COVID-19, the entire team will have to go into isolation, and there is no one to replace", – the source said.
A medical worker from Feodosia told the Crimean Human Rights Group that the 'Covid hospital' is 100% full, and there are people in a queue to be admitted.
Regarding the underestimation of the statistics of sickness and mortality, the medical worker explained that it is difficult to say anything definitive about numbers as they have no access to the statistics "Judging by the number of Covid patients brought to hospital, it's clear that the numbers are being underestimated. It can be seen that the 'corpse-trolley' is constantly hurtling to the Covid hospital, which means that the death-rate has risen. But only in the morgue they know definitely by how much. But nobody will say, it's forbidden to talk about that" – the medical worker said.
According to his information, there is enough oxygen in the hospital for those who are admitted. But there are not enough beds in the hospital, it is 100% full and people are waiting in a queue to be admitted. The ambulance bags are equipped with the necessary items, there is no problem with that. However, there are shortages of medication in chemists, including antibiotics.
The person added that, in Feodosia, there are on average 80 calls for four ambulance teams per day. This is a lot. The ambulance team has one paramedic and a driver. There are very few doctors, in Feodosia, for example, there are only four doctors left in the ambulance.  There are a lot of patients among medical workers, both in the ambulance and in the hospital. As for the deaths among medical workers, it is known that, in September, the therapist from the polyclinic died.
Covid supplementary payments are paid in full, but there were no regional payments in October.
An ambulance worker from the Kirovskoye settlement said that in his village a separate ambulance team leaves for "covid calls", about 40 calls a day. People are waiting in a queue since early morning. For example, a patient he knows, despite a CT scan having showed 50% damage to his lungs, still had to wait a whole day to be seen by a doctor. For an hour he called all the doctors to arrange hospitalization. There are medicines in the Kirovsky district for pneumonia.
A medical worker from Kirovsky district also told the Crimean Human Rights Group that there are people he knows who had given a bribe of RUB 70,000 to put the patient in the Simferopol City Hospital No. 7. Others allegedly paid RUB 100,000 for this.
At least two doctors in Kerch died from COVID-19 in November 2020, these are therapist Valentina Belyaeva and Acting Chief Doctor of the Publicly Funded Health Facility Kerch City Hospital No. 3, Lyudmila Chernyavskaya. Later, her 37-year-old son also died from Covid-19. The occupation authorities of the peninsula did not publish this information, although the local Kerch media wrote about the death of medical workers.
It is also known that, in Yalta, at least one ambulance worker died from COVID-19.