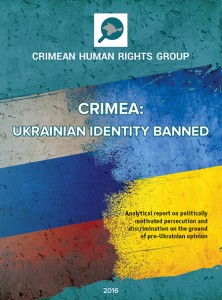 The Crimean Human Rights Group presents Analytical report on politically motivated persecution and discrimination on the ground of pro-Ukrainian opinion "Crimea: Ukrainian identity banned". 
The analytical report is the result of collection and systematization of information about human rights violations in Crimea that were committed in the result of the illegal occupation of the peninsula by the Russian Federation. The main focus is paid on human rights violations that have political motive. The report also describe systemic problems that arose in connection with the atmosphere of intolerance in Crimea in relation to various manifestations of the Ukrainian identity.
The analytical report prepared by the experts of the Crimean human rights group – human rights defenders and journalists who has been continuously monitoring and documenting human rights violations in Crimea since February, 2014.
The report is targeted at the representatives of international organizations, diplomatic missions, government agencies, human rights organizations, academics, lawyers, and journalists.
The authors of the report hope that it will be useful for international and national agencies and organizations that participate in decision-making process regarding Crimea and that it will help to promote human rights based approach to problems of the peninsula and a wider awareness on situation with human rights in Crimea.
The report focuses on such issues in the field of human rights in Crimea: Persecutions in Crimea for the support of the territorial integrity and independence of Ukraine (criminal and administrative persecution for political motives), Russian "anti-terrorism" and "anti-extremism" legislation as a tool for oppression and persecution of supporters of Ukraine in Crimea, systematic oppression of the Ukrainian Orthodox Church of the Kyiv Patriarchate in Crimea, discrimination on grounds of the Ukrainian citizenship and elimination of Ukrainian institutions of culture and education, hate speech and aggressive propaganda against the Ukrainians and Ukraine.
The Crimean Human Rights Group thanks partner organizations and foundations for their support in the preparation and publication of this report.