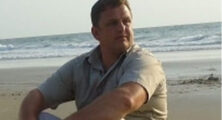 Today, on April 6, 2021, "Supreme Court of Crimea" has considered an appeal against the arrest of Vladyslav Yesypenko, a journalist of KRYM.REALII outlet.
The Ukrainian would be kept in the pre-trial detention center until May 11. This was decreed by "judge" Timur Slezko.

During the court session, Vladysalv refused the appointed lawyer – Violetta Sineglazova.
The journalist stated that he had been tortured. He said that the secret service men bagged his head preventing him from breathing in order to obtain a confession of guilt.
It is important to note that Violetta Sineglazova did not appeal against Vladyslav's detention and did not appear at the court hearing on March 23. This behavior once again confirmed that Violetta Sineglazova, in fact, represented the interests of the FSB, and not the client.
We would like to recall that on March 10, Mr. Vladylsav Yesypenko, a native of Kryvyj Rih, was detained at the Angarsk Pass. The Ukrainian was taken away in an unknown direction. On March 12, the "Kievskiy District Court" of Simferopol detained him for a period of 2 months, until May 11. The decision was made by "judge" Viktor Krapko. The court session was also held without an independent lawyer engaged, in the presence of the appointed lawyer Ms.Sineglazova. Independent lawyers Emil Kurbedinov and Aleksey Ladin, contracted by Mrs.Yesypenko, the spouse of the Ukrainian, were not allowed to see Vladylsav.